What does project management mean to me – "lessons learned"
From my perspective project management means to me the effective management of  people and systems. This is where I find a strong connection with lessons learned / knowledge management.
The majority of project managers think of lessons learned as… follow a process and enter your lessons learned into a tool…am I right?  Well the focus will not be on the process or the database/spreadsheet/document/log etc as we all know it from PMBOK, PRINCE2, ISO21500 etc.
I have had to learn a number of lessons in my project management career as we all have. Some have been good lessons about humankind and myself, and some have been surprisingly hard lessons to learn about others, and about myself.  Some lessons you only have to learn once, other lessons you seem to have to learn over and over…
Dale E. Turner said "Some of the best lessons we ever learn are learned from past mistakes. The error of the past is the wisdom and success of the future".  
We have a significant challenge for government and business project organizations to ensure that lessons are learned and those mistakes of the past are not repeated. Both the knowledge and project management literature suggests that the lessons learned process in practice rarely happens, and when it does it fails to deliver the intended results.
We all need to do something about this, as our professional image as project managers will suffer in the wider community.  The problem does not seem to be with identifying lessons, nor is it to a lesser extent the ability to store knowledge. But rather the problem appears to be that organizations are unable to apply or implement the lesson learned (knowledge) they have. They lack, anthropomorphising somewhat, an organizational central nervous system. Much of the literature re-enforces the point that people factors influence the success of the lessons learned process and that a just culture / learning culture is critical to successful dissemination of lessons learned.
There are some successes in health care, nuclear power, rail and aviation. A common element in these organizations is the cultural practices for learning through safety.  There seems to be a connection between organizational learning and how naturally evolved complex adaptive systems (CAS) learn. My research to date has developed a conceptual Systemic Lessons Learned Knowledge model or Syllk model. This model is derived from an analysis of how complex adaptive systems learn and from how the Swiss cheese model for safety and systemic failures is successfully implemented for learning by health care, nuclear power, rail, and aviation organizations. The model is developed to enable project organizations to learn from their past project experiences by capturing lesson learned from projects and distributing knowledge across an organizational network of elements such as people (individual learning, culture, social) and systems (technology, process and infrastructure).
Syllk model
The challenge as I see it is that Project Management needs to consider how to align with the complexity issues of the people and systems elements within the lessons learned (knowledge) organizational environment. This challenge is supported by a recent project management PM World Today editorial post on Lessons Learned but Knowledge Lost. In response, Wideman a recognized project management global expert stated:  "…in spite of all the technology that is available to us today, we have not yet found a presentation format that captures the essence of this wisdom in a way that is relevant to future usage, readily searchable and easy to store. …we have a serious cultural problem. …we are probably condemned to continue to throw away the valuable resources."
In summary, as stated earlier, we as Project Manager's need to continue contributing to the project and knowledge management literature and provide an opportunity to improve project knowledge sharing, and ensure projects achieve success for organizations.
Finally, I will leave you with a quote from Hugh White (1773 -1840) "When you make a mistake, don't look back at it long. Take the reason of the thing into your mind, and then look forward. Mistakes are lessons of wisdom. The past cannot be changed. The future is yet in your power."
Thanks for reading, Stephen
As Shim would say "think about it"
#PMFlashblog
(Picture Source: Mike Licht, NotionsCapital.com reports)
P.S. This post is published as part of a first ever project management-related global blogging initiative to publish a post on a common theme at exactly the same time. Over 70 bloggers from Australia, Canada, Colombia, Denmark, France, Italy, Mexico, Netherlands, Poland, Portugal, Singapore, South Africa, Spain, UK and the USA have committed to make a blogging contribution and the fruit of their labour is now available all over the web. The complete list of all participating blogs is here so please go and check them out!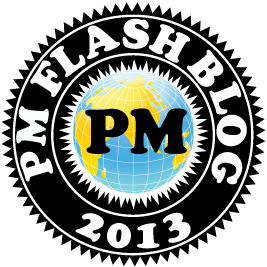 e-book is now available (wef 26 November 2013)